News archive
An archive of news articles and interviews featuring BC/Yukon
branches, staff, and programs.
Serving Canadians, Connecting Canada on the Railway
Ed Koski's Commitment to Veterans and his Community
Ed Koski has a military history as a cadet and a veteran, since that experience he's spent most of his life working to connect Canadians on the Railway. In fact, he spent thirty-seven years with the Canadian Pacific Railway.
Ed was born in Kamloops, B.C. in September 1956. Nine years later, his family moved to Revelstoke. As soon as he was able, Ed joined the other kids his age as a part of the Rocky Mountain Ranger Cadets. With each small piece of responsibility given him, his confidence rose and he eventually found himself in the rank of Captain.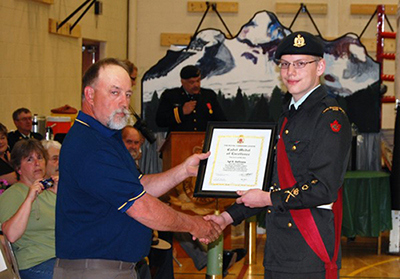 *above, Ed Koski presenting the Legion Cadet Medal of Excellence to WO Derren Galicano, 2014.
Being a part of the cadets helped Ed gain the confidence to do what he enjoyed. It inspired him to see the value of joining the Primary Reserves in the Rocky Mountain Rangers (B Company) while he decided on a career. One of Ed's best memories was when he was in the Reserves and was pulled out of his high school classroom by his Commanding Officer.
"The winter of 1972 was one of the worst years on record for snowfall," remembers Ed. "I was eighteen, in Grade 12, and had recently joined the Primary Reserves. The Regular Force Artillery were up on the Rogers Pass (about half way between Revelstoke and Golden) shooting at slide paths to prevent avalanches and protect traffic when the unexpected happened. Our Forces were hit with an avalanche and needed rescuing. I was called out of the classroom and sent to the Principal's office. My Commanding Officer was there looking over me and my fellow reservists. He said, "I need that man." Ed's Principal gave him permission to leave school to help. His duty was to fully chain up a 3/4 ton Army truck and to go help tow trucks in town.
"I even pulled out a tow truck holding an ambulance, pretty cool for an 18-year-old kid!", Ed explained.
The next summer as a Corporal, Ed was assigned to teach the SSEP (Student Summer Employment Program) in the Armouries at Kamloops. This was a six week course with thirty young trainees. It was Ed's job to prepare them for service to their country. This meant instruction on marching, map reading, orienteering, handling basic weapons, first-aid and military discipline.
Shortly after teaching these basic life skills and necessary discipline, Ed got a position with the mechanical department of the Canadian Pacific Railway.
During his first year with the railway, Ed became active with the Railway Carman's Union and was honorably discharged from the reserves. He took on multiple roles in the union from Lodge Recording Secretary, President, to Human Rights Rep and Grievance Chairman. Ed sacrificed countless hours to this service and usually without pay. During this time he joined the Revelstoke Legion Branch #46 in 1976.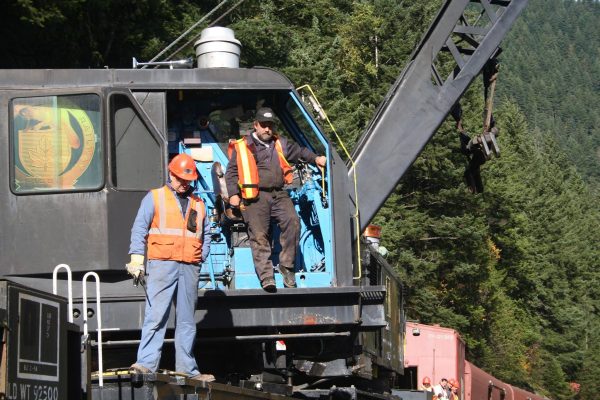 *above, 1993, Ed is in the black, in the role of Crane Operator, a 150-ton American Hoist wrecking crane, near Yale in the Fraser Canyon.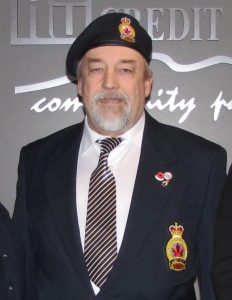 Ed married Shelley Lewis 1985 and two years later he was transferred to Golden so he also transferred his membership to Golden Branch 122. In 1989, their daughter Karla was born and 1991, their son David. In Golden, Ed volunteered with the Nicholson Community Association from 1990 till 1992.
Ed retired in 2011 and in 2013 moved back to Revelstoke, and he transferred his Legion membership back to Branch 46. Immediately, he became active at the branch as a member-at-large on the branch's Executive as the House and Building director.
In 2014, Ed joined the Revelstoke Railway Museum in Revelstoke as a volunteer repairing and doing touch up work on the rail cars. This is still work that he enjoys today.
Ed has served three terms as Branch President at the Revelstoke Legion. In 2019, he stepped back from being President, for a break, but still holds the position of Past President. He remains very active helping with building maintenance and other activities like running meat draws and any help the Ladies Auxiliary may need for events.
Ed is a shining example of volunteerism and hard work and we congratulate him on his recent Life Membership.
Honours and Awards
Life Membership