News archive
An archive of news articles and interviews featuring BC/Yukon
branches, staff, and programs.
Legion Member Highlight:
One of Canada's Most Decorated Veterans
Lt. Col. William "Robbie" Robertson Passes Away this Year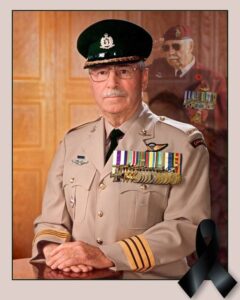 On Saturday, Sept. 18, 2021, Kamloops –  Lt. Col. William "Robbie" Robertson, a veteran of the Second World War (WWII) and the Korean War was finally laid to rest in military fashion.
He was also the past commanding officer of the Rocky Mountain Rangers Regimental Association and former president of the Royal Canadian Legion Branch 52. Robertson passed away due to COVID-19 at age 97 in November 2020.
The Parade and Service
A parade was held in downtown Kamloops led by the Kamloops Branch #52, Color Party followed by the hearse carrying the Remains of the Colonel. Followed by a Black horse bearing the reversed boots of the Colonel. Followed by the Old Guard of the Rocky Mountain Rangers and the Legion. Contingent of A and B companies of the Rocky Mountain Rangers and Members of the family followed as well as the Pipe Band. A rolling escort was provided through the city by the RCMP. There was an amazing number of viewers for the Parade and they did justice to this well-known Officer. An internment service followed at the local cemetery.
A Short Biography
Lt. Col. Robertson joined the army in 1938 at the age of 15 (of course underage but managed to convince he was older). He joined the Saskatoon Light infantry going overseas in 1941 with CSAF and deployed in both Italy and NW Europe and was awarded the Officer of the Order of Military, the Military Cross, the Italy Star, France Star, Germany Star, Defence Medal, and the War Medal.
In 1951, he joined the PPCLI and served with The US air force and in Korea for four months. There he earned the Korean Medal, the Canadian Volunteer Service Medal and the UN Service Medal. On his return to Canada he became an Airborne instructor 1954-1957. He was then deployed for Peacekeeping Duties 1961-1962 in the Gaza Strip. Once he returned he was stationed in Vancouver as CO of the Personnel Depot. In 1968 he retired from Active duty and remained in the Reserve Force.
He moved to Kamloops in 1972 and transferred to the Rocky Mountain Rangers, he became CO in 1975and promoted to the rank of Lt. Colonel in 1978. In 1990-2000 he was assigned the Title of Honorary Colonel with the Rangers.
Robbie, as everyone knew him, was best known for his bravery, devotion to duty, and maintaining the highest traditions of the Canadian forces and is one of the most decorated War Veterans in Canada.
Robbie was a well known and respected long-time member of the Kamloops Legion serving two Years as the President. God Speed.
News Round-Up
https://www.castanetkamloops.net/news/Kamloops/346172/Colonel-William-Robertson-laid-to-rest-in-Kamloops
https://www.radionl.com/2021/09/17/83447/
https://www.cbc.ca/news/canada/british-columbia/b-c-veteran-who-spent-most-of-his-life-serving-canada-dies-from-covid-19-at-97-1.5833528
https://cfjctoday.com/2021/09/18/late-wwii-and-korean-war-veteran-sent-off-in-military-fashion/