What We Do
Honouring the sacred sentiment of Remembrance,
while serving, promoting and acting
Winch House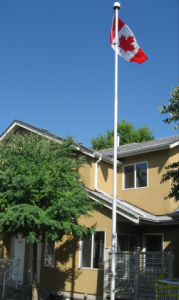 Winch House is a fully-furnished townhouse in the Chelsea Gardens family housing complex at 1079 East 52nd Avenue in Vancouver. It is named in memory of Don Winch, who served on the New Chelsea Society's Board of Directors for close to 25 years, primarily in a leadership capacity.
This facility is a home away from home for Afghanistan war veterans and civilian first-responders and family members to recover from injuries, including psychological damage caused by post-traumatic stress disorder. Therapists are available for children's, couples and family counseling to help in the healing process. Set in a quiet, family-friendly neighborhood next to a children's playground, this townhouse is a perfect place for these honoured residents to get the help they really need.
4-bedroom, 3-bathroom disabled-accessible townhouse for short-term stays
Fully-equipped kitchen
Living room with huge flat screen TV and dining room.
Children's area in basement and a playground outside.
Non-smoking.
Laundry machines
Free accommodation for Canadian Forces members, veterans, first-responders and their families, and members of the Royal Canadian Legion.