What We Do
Honouring the sacred sentiment of Remembrance,
while serving, promoting and acting
Legion Veterans Village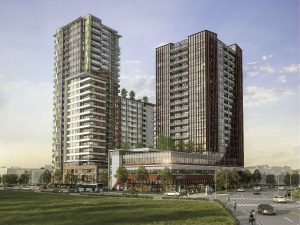 The $112-million two-phase Legion Veterans Village project will be Canada's first Centre of Excellence for Veterans and First Responders focusing on post-traumatic stress disorder (PTSD) and mental health. Phase one includes a twenty-storey centrepiece, mixed-use building inspired by the forms of the Canadian National Vimy Memorial in France. This building will feature the Centre of Excellence and the Innovation Centre for Rehabilitation, offering clinical rehabilitation services, research and the delivery of health care programs, services and trauma counseling for PTSD and mental health.
It will also house a new 10,500 square-foot, state-of-the-art facility for the Whalley Legion Branch 229, as well as 148 market housing units, and 48 affordable housing units for veterans and their families. The second phase, and complement to the Veterans building, is a new twenty-six storey building that consists of 325 market housing units.
Led by BC/Yukon Command of the Royal Canadian Legion, together with our Whalley Legion Branch 229 and the Lark Group in Surrey B.C., this unique multi-purpose facility is envisioned to be the first of many such projects across Canada. This innovative project is positioned to change the current standards of care for veterans, first responders and citizens in the Canadian communities it serves. Our goal is to meet the critical needs of our valuable veterans and first responders, providing them with the programs and services that will help them heal and recover.
The Legion Veterans Village will be a major step forward in providing:
Centre of Excellence in PTSD and Mental Health: The project includes integrated support facilities and services with core clinical and research components, including mixed medical services and an Innovation Centre for Rehabilitation;
Transitional housing and crisis support facilities for veterans and first responders;
Affordable and Rental Housing: 48 units of social and affordable housing through BC Housing to serve the local community as well as veterans, first responders, and their families;
Legion & Multi-Cultural Community Spaces: A new 10,500 sq. ft. Whalley Legion facility, cadet training hall, coffee shop/restaurant and multi-cultural community space – creating a true village and community of care.
A key priority will be the integrated delivery of a continuum of programs and services for veterans and first responders, and will also contribute training and research towards new practices, interventions and technologies in engineering, robotics, exoskeletons, and advancements in neuroscience, etc.
The construction for the Legion Veterans Village will commence this summer, following our groundbreaking event, with completion slated for spring 2022.
The Whalley legion has been serving the community at this location since 1960. We are excited to see this monumental project as a legacy for our branch, as well as a symbol of what a future, modern Legion can mean to veterans, first responders and our communities.
Find out more by visiting the Legion Veterans Village official website.