News archive
An archive of news articles and interviews featuring BC/Yukon
branches, staff, and programs.
Snapshots of Our Diverse Canada
Flipping through the BC/Yukon Command In Service of Canada Military Service Recognition Book, it is easy to see how Canada's visible minorities contributed to the diversity in Canada we know today.
Here is a snapshot of a few veterans from the WWII era. All of these stories, and more, can be found in copies of the Military Service Recognition Book. You can find digital copies here.
Bill Wong Chow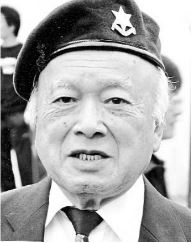 Bill served with Force 136 in Southeast Asia in World War Two. When Chinese Canadians were finally allowed to enlist in the armed forces in October 1944, Bill was conscripted into the Army. After basic training, he left for England in February 1945. He was seconded to the British Army's Force 136, which fought as "guerillas" and collected information behind enemy lines.
Bill was posted to Poona, India and trained to be a morse code operator in the jungle. But Japan surrendered, and he returned to Canada. He was found to be suffering from pleurisy and spent 10 months in Shaugnessy Hospital.
Born in Cumberland, BC, in June 1922, Bill was a member of Legion Branch 44. Bill passed away March 12, 2013.
Fred George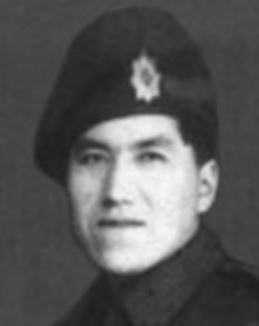 Fred was the last Wet'suwet'en World War II veteran. Fred was born in Trout Lake, near Houston, British Columbia on June 22, 1918. He served with the Army's Service Corps in England, France, Holland, Czechoslovakia, and Germany between 1940 and the end of the war. During the invasion of Normandy, he drove his truck filled to capacity with ammunitions from his landing craft submerged up to his neck.
Fred returned home to the Bulkley Valley where he met and married his wife Dorothy. Fred was very active with the Wet'suwet'en. At the last Wet'suwet'en veteran, Fred traditionally carried the flag for the Remembrance Day ceremonies up to the last few years when decreased mobility forced him to watch from a wheelchair. Fred was a member of Legion Branch #63 for 45 years before he passed away on February 17, 2008.
Georgina Rosewell (Debney)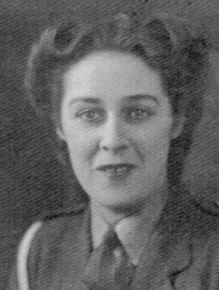 Georgina was posted to the 144th Heavy Artillery Regiment in Washington, County Durham. There were three Batteries, Nos. 297, 298, and 301. Periodically, they went on a Cadre course to Weybourne in Norfolk, with trucks full of men, women and equipment. They lived in Nissan huts that dripped condensation, and only a small stove for heating; they were uncomfortable, and cold.
An Air Force base sent a plane towing a drogue for target practice. The 297th performed well. In the village pub, another Battery "knew" they could do better. At practice the next day, a shot hit the line which attached the drogue to the plane! Which Battery did that? After this, there was no practice for a couple of days. "Scuttlebutt", said the pilot was not impressed.
While waiting for the new plane to arrive, Georgina and friends decided to swim at the beach, which had been cleared of mines. Georgina says, "The North Sea is quite cold, and you walk in steadily. I felt something, and saw a large metal object, like a curling stone between my feet. An anti-tank mine! Everyone froze in place, quite afraid, and then backed up very slowly, and gently. The memory added to the joy of dancing on VE and VJ days.
Robert "Bob" Smith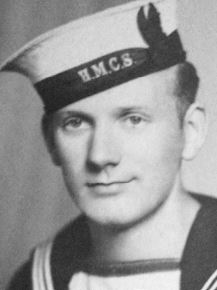 Bob was born in Nanaimo, BC, on January 8, 1918. On August 7, 1941, at Esquimalt, BC, he became a member of the Royal Canadian Navy. Bob's theatre of service was in Canada on the High Seas. He and his buddies wanted to go overseas, but you went where you were sent, so the war years werespent in Canada. Bob served on three ships: HCMS Belleehasse, HCMS Miramichi, and HMCS Kelowna. Most of this time was spent on the Kelowna. His rank upon leaving was stoker Petty Officer.
Two good friends of Bob's were Abe Ferrero and Tommy Tompkins. These three still wear the identical tattoos they all got while out one night!
Bob was honourable discharged on October 22, 1945. On September 6, 1953, Bob joined the Air Force, where he worked as an airframe mechanic. In 1959, he was recognized for inventing a tool for working on the ailerons of the Mitchell aircraft. Bob was married in wartime.
Gordon Quan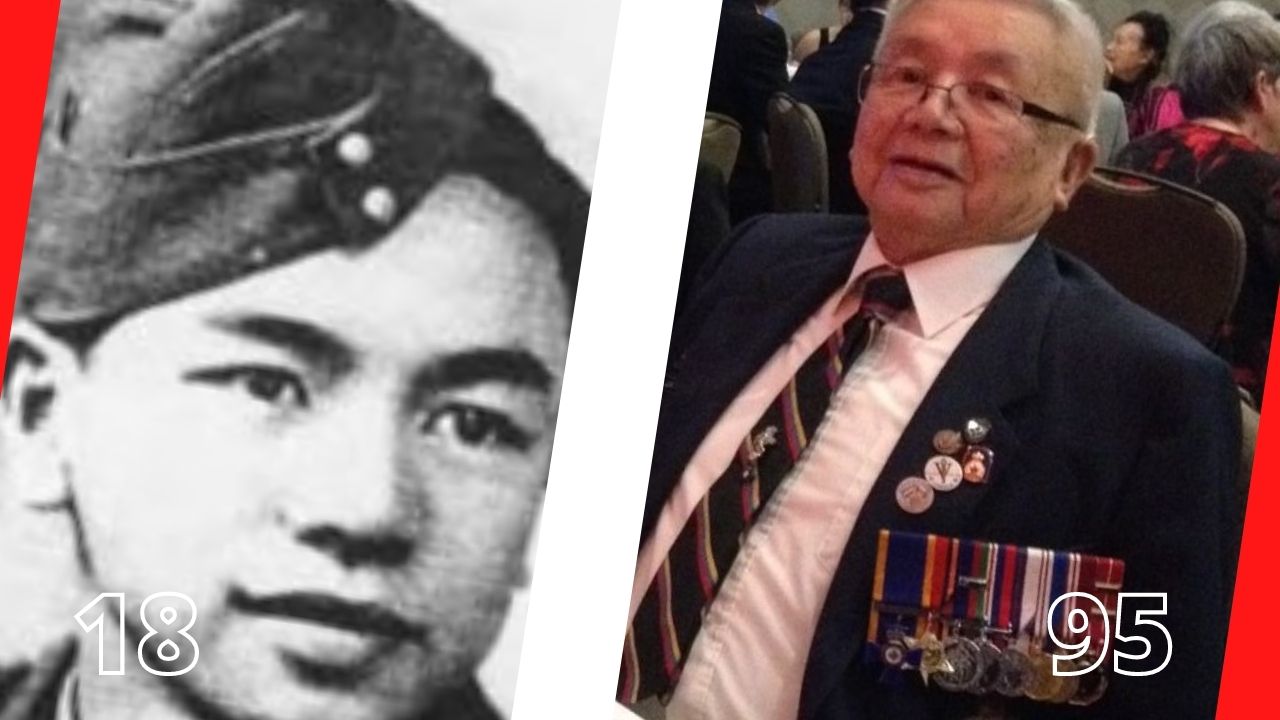 Gordon was born in Cumberland, BC, on January 14, 1926. He joined the Armed Forces when he was 18. He did three months basic training at Maple Creek, SK, before transferring to the British Army for Special Services in the Southeast Asia Command. Gordon became an expert in demolition and sabotage with Special Force 136. In 1952, he transferred back to the Canadian Army, joining the 40th Technical Squadron Militia as a craftsman and master mechanic. The 40th was disbanded in 1964, by which time Gordon held the rank of Master Warrant Officer. He transferred to the 155th Royal Canadian Army Service Corp., staying until 1970. He moved to the 11th Victoria Service Battalion and retired as a Regimental Sergeant Major after 35 years of service. Gordon was awarded the Canadian Forces decoration with two bars; the Elizabeth II Medal; the 1939-1945 Medal; the Canadian Volunteer Service Medal; the Burma Star Medal; and the Order of Military Merit of Canada. Gordon has been a member of Britannia Legion Branch #7 since 1983.
Quan has been featured in the news a number of times over the years. Learn more about his experience in World War II and afterwards, click here.